Printing Changes in the Library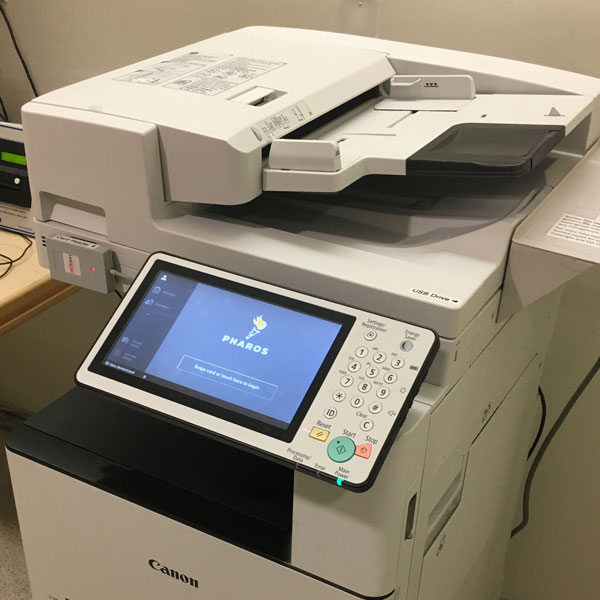 Starting in November, the Health Sciences Library will be rolling out new features to its printing services for students, faculty and staff. The Library currently utilizes a print-management system called Pharos to manage printing. In the past, the Library has used the Pharos system and print cards to:
send print jobs to be printed

release print jobs at a specific printer

Print card account balances to pay for prints
The Library will be introducing new features to the Pharos Print Management system, including the ability to take credit card payments, and offer "Mobile" printing solutions. These changes are in response to the expressed need to make on-campus printing more accessible to those who rely on personal computing devices for their research and coursework. The three new features have been integrated into your Upstate username and can be accessed online and at select printing stations.
MyPrintCenter

The MyPrintCenter is a web-based portal for you to manage all of your printing needs through Pharos enabled printers. By going to https://printcenter.upstate.edu/ and logging in with your Upstate username and password, you will be able to see prints that you have sent to be printed, the print balance that is associated with your account, the ability to modify some print settings for documents you had already sent, and finally the ability to release your prints to a printer without having to use a Pharos release station. All the MyPrintCenter requires you to use is your specific Upstate username when you send prints and a print balance within your account.
"Mobile" Printing Options

We have two mobile print options in which you may send prints to any Pharos enabled printer.
Uploading to MyPrintCenter - Use the "Upload" button in the MyPrintCenter to upload a document to be printed.
Credit Card Payments
As account information is now tied to your Upstate username, the Library is offering a service through the MyPrintCenter to add funds to your printing account. The lower left of the MyPrintCenter screen shows your available funds along with a "Add Funds" button which will enable you to add your desired amount and you will then be sent to PayPal where you can use your own account or use a credit card to add a balance. The minimum amount you can add is $5 and the maximum is $50, due to fees associated with processing credit card transactions.
Still have a Print Card?

Do not worry, we have a system that will enable you to transfer an existing Jamex print card balance to your Upstate ID. The transfer station computer is located next to the first floor Canon multi-function printer (MFP) and can be used only to transfer some or all of your Jamex print card balances to your Upstate username.
Additional Changes

On the new Canon MFP device, you may use your Upstate badge to log into the device. Place your card in the proximity of the card reader, and you will be logged into the device automatically.
At the end of November, you will be required by all Pharos release stations to log into the Pharos release station software using your Upstate username and password. This will allow us to make the viewable prints in the queue specific to you. You will no longer have your prints in a general queue, and so it will address many of the privacy concerns we have heard about with printing in the past.
Please remember, with all devices that enable logging into your personal account that you log out after printing, copying or scanning.
Still have Questions?