Library Introduces a Self Checkout Kiosk & App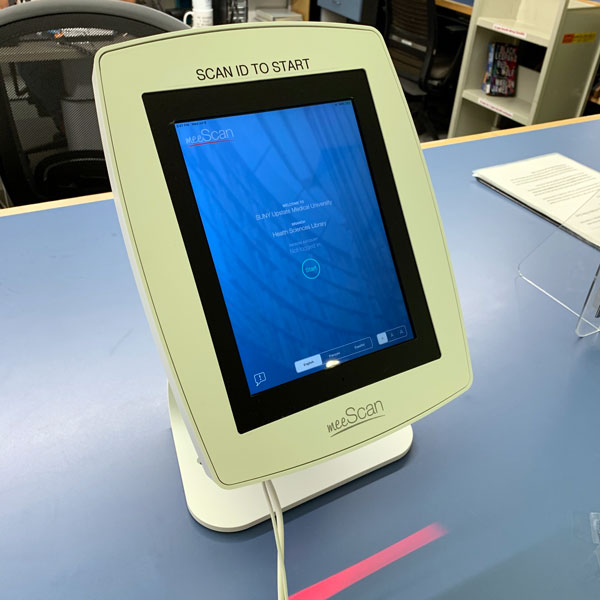 The Library is pleased to announce the addition of both a self-checkout kiosk and self-checkout application, which will allow you to observe safe physical distancing measures while checking certain items out from the Library.
meeScan Kiosk
The meeScan self-checkout kiosk, is located at the front desk, and will be in operation during normal business hours and is only able to check out books.
To start, simply scan the barcode on the front of your Upstate ID card at the kiosk, and then scan the library barcode on the items you wish to check out. Once finished, please click the "Log Out" button at the top to return to the kiosk's home screen. 
Room keys and closed reserves will still need to be checked out by a Library front-desk staff member.
meeScan Application
The meeScan application, available at: https://www.meescan.com/mobile-app.html provides you options for checking books out yourself through your mobile device. You will need to link your Library account with your application, which can be done when you are physically present on campus.
Scanning items are the same as you would on the kiosk. Simple scan the library barcode on the items you wish to check out. At the conclusion of your scanning, please click
Both the kiosk and application will email you confirmation of your checked out items. Returns must still be returned to the Library front desk for a staff member to process and sanitize for further use.
If you have any questions about the Kiosk or Application, please contact the Library team at 315.464.7091 or via email – library@upstate.edu.