SUNY Upstate Medical University Celebrates National Library Worker's Day
The Health Sciences Library is celebrating National Library Worker's Day! We recognize the hard work of our library staff. So we are taking this day to acknowledge them, those in front and behind the scenes. Highlighted are several staff members. THANK YOU! Your valuable contributions aids in the excellent level of service and resources provided.
---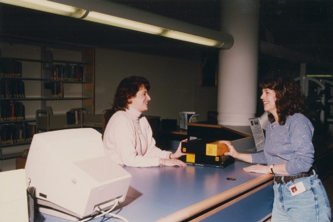 My name is Nancy Burtis. I am the Manager Access Services. I was hired to begin work on March 31, 1994, in the "old" library as circulation desk staff. I just recently celebrated 25 years at Upstate! The "old" library was not exactly esthetically pleasing, so I was promised that we would move to a brand new library, which was under construction, in approximately one years time. That came to fruition in December of 1995 when the new library opened. My role in the library has evolved through the years to align with all of the many ways in which the library itself has evolved. I have transitioned from the "front lines" of circulation to a more administrative role, with additional responsibility for oversight of the facility.
My greatest satisfaction comes from all of the positive relationships with fellow Upstate employees which I have formed over the years, as well as getting to know our students.
Outside of work, I enjoy get-aways with my husband, and especially spending time with my two baby granddaughters in Brooklyn, NY.
---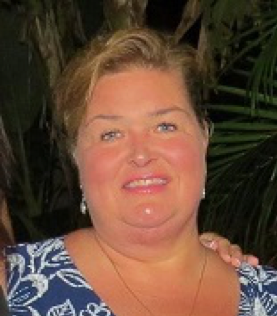 My name is Deidre Brennan, I am a Library Clerk 2 here at The Health Sciences Library. I have been at the library for 15 years. This career was a perfect fit for me as I love working with people and books of any kind. I have gained an amazing amount of knowledge and skills from my position, one of them being how to manage many requests for assistance from all different departments and people in one day. On a daily basis you may see me: handling requests at the circulations desk, making signs for the library, fixing printers or copiers, giving directions to rooms or classes, or taking care any number of tasks that happen from the circulations desk. It has been a pleasure working at The HSL, I have been fortunate to meet so many wonderful people from staff to students through my years.
---
My name is Dinita Machlin. I have been a part of the Information Resources team since 2004. In the fifteen years that I have spent with Information Resources, I have been lucky to have observed the amazing changes and advancements that have occurred in this short time. The integrated library systems used in our library long ago, are now far more advanced and more helpful and user-friendly to our patrons and staff. The details of my positon are essentially purchasing print, electronic and audiovisual material for our Upstate community. I truly enjoy cataloging and preparing material for our Reserve, Leisure, Reference, and third main floor main collection. The best lesson that I have learned along the way in my position, is to embrace change. We live in a high-tech world that changes rapidly. In order to stay on top, we need to roll with it or be left behind. I feel very fortunate to be employed at such a wonderful institution that holds a superior staff of intelligent, kind and devoted librarians and support staff.
---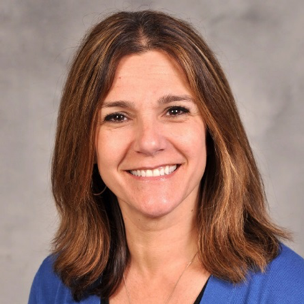 My name is Sherry Wlodarski. I have had the pleasure of working at the Health Sciences Library for the past five years as the administrative assistant. I really enjoy the job that I do, the people I work with, and being able to manage all the different aspects of my work environment. Some of my duties include: purchasing, travel, payments, reimbursements, and balancing and reviewing budget reports. I have met some amazing people and have formed some great relationships. One of the best lessons I have learned on the job is that collaboration plays a vital roll in the operations of the library. Outside of the library, I enjoy staying active, vacations, time with my son, family, friends and my two dogs.
---
My name is Liliana Barros. As the Access Services Assistant, I am a primary point of contact during weekday morning shift to provide customer service to library customers. I complete routine service desk tasks including locating materials, circulating items, assigning individual and group study rooms. I also open the library every weekday and perform procedures associated with the opening. I coordinate and assist with special events such as Therapy Dogs.
When I am not in the office, I love to spend time with my little one Amalia, my family and friends. When the weather is nice I love to go out and walk, hike, and always travel whenever possible.
---
My name is Michael Colella and I am the evening weekend supervisor of the Upstate Health Sciences library. My duties include hiring the student assistants, training the student assistants and making the weekly schedules for the student assistants. Some of my other duties include giving out after hour access to students, delegating tasks to the student workers, and maintaining a safe environment in the library. I love this job and all of the students and faculty involved!
---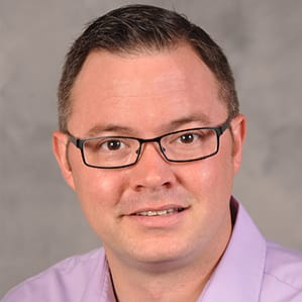 Hi, I'm Devin Kerr, and I am a member of the Library systems team. My main job is to coordinate, maintain and update the Library's online presence and manage our Library's technical systems and hardware. I provide analysis of user data and feedback to optimize the web site experience and to help promote web-based initiatives and improve the discoverability of our electronic resources. I also lend graphic design skills to help create promotional materials and marketing initiatives.
When I am not in the office, I love spending time with my wife Dawn and daughter Lisette, our dog Willie and scheming of new DIY home improvement projects to do. Otherwise, you'll find me wandering around Wegmans looking for new ideas for recipes.